KARS Activity Newsletter
Hello KARS members!
Joy's memorial service was really nice.  Thanks to all who were able to attend, I know that Charlie appreciates it.  A few of us made it over to his house, where he had a nice reception there.  I wasn't able to stay as long as I would have liked, because I had to retrieve my cap from a restaurant in Texas City, where I left it after leaving the hamfest there last week.
All was not lost, as that trip allowed me to get in two solid hours of operating on 17m mobile.  I received an email from David (KD5FX) that mentioned he was on 17m also yesterday, and having good luck there.  The band was doing really well, I made contacts into FL, GA, CO and others.  Mobile HF has been a lot of fun for me.  I have about a 40 minute commute, so that gives me a good bit of time to operate each day.
(I'm going to ramble a bit on some of the things I've been asked lately since there's not a lot going on)
This also gave me some time to check out some new ferrites that I bought from DXEngineering.  Part of the fun of mobile HF operation is keeping the RF where it's supposed to be, and keeping it out of where it's not.  Ferrites are the most common solution, and the trick is finding the right ones.  First off, there are tons of ferrites available at hamfests, but you have to get the right Mix for them to work for your issue.  If you use the wrong Mix, it just won't work. The biggest problem is that nobody identifies the Mix of the material — and that's most likely because they don't know, and you can't tell 'em apart by looking.
The mix you should be using for HF work is 31.  If you have access to a MFJ-259B or similar, you can identify Mix 31 or Mix 43 ferrites.  You'll need some hookup wire, size 22 is ideal, to make 3 passes through the bead plus enough to connect the ends to the analyzer. Set the frequency to 2 MHz, and measure the reactance. If it is mix 31, the reactive value (X) will be approximately 400 to 500 ohms. Pushing the mode button three times will bring up the inductance menu which should show 40 uh or so.  To test for Mix 43, do the same test, but with 5 turns.  You should get the same answer.  If you get double these numbers, you probably have Mix 77, which is better suited for supression in the 160m area.  The Mix 43 is better suited for 10MHz through 1000MHz.
So, the point is that now that I have the proper mix on my mobile rig, I don't get RF on my audio now when I use my compressor.  I'd also like to give kudos to DXEngineering for shipping my order lightning quick (ordered Wednesday, got it Friday via usps priority mail).  If you want, you can check out their ferrite page here.  Just make sure to get the right one for your size of cable.
I also talked about a SMD rework station during the Saturday breakfast.  Really makes working on SMD devices a walk in the park.  The one I've been using is an Aoyue 852A.  These are avalible on eBay for $139 + about $16 shipping, which is reasonable given the size and weight of the unit.  It heats up fast, and is one of the only stations I know that has a vacuum pickup tool.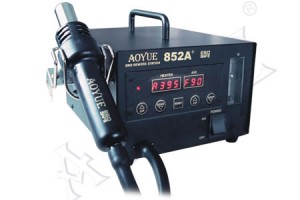 I've been really impressed with this unit as I've been assembling my SDR transceiver.
Another thing that I stumbled upon is Rescue Tape.  It's a silicon tape that is self-amalgamating and doesn't use an adhesive.  It's insulating to 8,000v, waterproof, airtight, withstands 500 degree temps and has 950 psi tensile strength.  Not only that, because it fuses to itself and doesn't use an adhesive, it doesn't get sticky and nasty like old electrical tape does.  All you do is stretch it and wrap it upon itself.  It bonds in seconds and is easy to use.  I'm currently using it to waterproof my PL-259 connection to my screwdriver antenna.  I bought mine from Amazon, but I found it at the local fry's store for half the price!  Best $4.99/roll you'll ever spend.  You can check out fry's page on it here.
If you didn't make it out to the last club meeting, we gave a certificate of appreciation to Bruce (WA5DVO) past president of KARS in recognition of his service to the club.  Thanks Bruce!!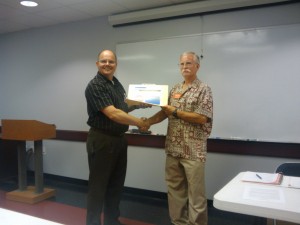 As always, if you know of an activity that I've missed, or would like to have included, please email me at radioN5TGL@gmail.com and I will make sure that information gets distributed.  Also, if you would rather not be included on this email distribution, please let me know and I'll remove your name from the list.
Volunteer Opportunites:
The Boy Scout JOTA is going to be held October 16 – 17.  Mike Mettler will be our main contact for this event.
Email me if you have any others you want me to list in the newsletter.
Contests: Not much again this weekend, just some RTTY going on.
Upcoming Hamfests:
The Austin summerfest is the last hamfest (in the semi-local area) I've got on my calendar for the year.  So, if you want to get some gear, this is pretty much going to be your last chance to do it.
Location: Austin, TX
Type: ARRL Convention
Sponsor: Austin ARC and Texas VHF FM Society
Learn More
Location: Gainesville, TX
Type: ARRL Hamfest
Sponsor: Cooke County Amateur Radio Club
Website: http://www.gainesvillehamfest.org
Learn More
Location: Paris, TX
Type: ARRL Hamfest
Sponsor: Paris Texas Radio Group & Red River Valley ARC
Website: http://www.paristexasradio.com
Learn More
Location: Azle, TX
Type: ARRL Hamfest
Sponsor: Tri-County Amateur Radio Club
Website: http://www.wc5c.org
Learn More
Closing Notes:
As a result of us getting a semi-constant stream of spam on the site here, I've closed down commenting to anyone except registered users.  So, if you want to comment on a post, you'll have to log in.  If you're a member and are unable to login, please contact me via my email radioN5TGL@gmail.com.
The sun woke up a bit with a pretty big spot traversing the disk.  Solar flux got up into the 80's for the first time in quite a while (since May) and the A index stayed low for the first couple of days in the week.  20m was much easier to work, that's for sure.  The SDO got a really nice shot of the spot coming around the edge of the sun
Remember, the KARS net is held each Tuesday evening at 8:00 PM local time. The nets are held on the club repeater, KT5TX with an output frequency of 147.200(+) and a PL of 141.3.  Currently we are transmitting tone, so you can use tone squelch if you have it.  There is a pre-net "Elmer session" which starts at 7:30pm.  Feel free to bring your technical questions and we'll do our best to answer them.  We also get together each Saturday at Skeeters for breakfast around 8 am.  Skeeters is located on the NE corner of Mason Road and Highland Knolls. You are cordially invited to attend and enjoy the food and fellowship.
73,
Michael
N5TGL