Where in the World is . . .Duhacsek Park KK5W 10A STX GOTA-K5DX FD 2019
In the beginning, the site was without form and void, but we could see it had potential. It wasn't much really. Just a little 50-acre greenspace donated to the City of Sugar Land, Texas by Walter and Virginia Duhacsek. The property included the Duhacsek homestead; a midcentury single-story residence though empty of furniture, could be used for group activities.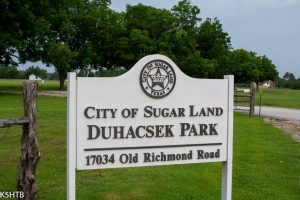 After three years of negotiations with the city, we got permission to use the park for our field day activities in 2018. Last year was a trial run for 2019.
At 0000 UTC Friday the transformation began. Four Houston area clubs came together for Field Day 2019. Dubbed the Quad Club Mega-Field Day it included amateurs from the Brazos Valley Amateur Radio Club (BVARC), Texas DX Society (TDXS), Katy Amateur Radio Society KARS) and Houston Echo Society.